Pedodoncy is a branch of dental medicine that deals with preventing and treating teeth in children. It is very important for children to build the habit of maintaining oral hygiene from small feet.
At the first check-up at the dentist, children should be brought early in the first year of life, when there are several baby teeth in their mouth. Of course, the first couple of visits will be based on a game and getting to know the dental environment to allow the children to feel relaxed and safe. First baby teeth grow within the six months of child's life and up to the third year, all 20 baby teeth should have grown. We should keep in mind that each child is individual and that deviations from these parameters are not uncommon. Though it is commonly believed that baby teeth are only a transient stage to permanent teeth and are no so important, it is not true.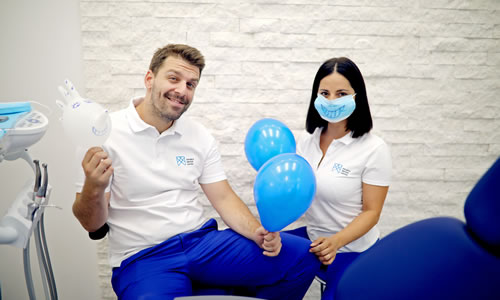 Along with creating healthy habits to maintain high-quality oral hygiene, it is important to preserve the baby tooth to the last moment when the permanent tooth is replaced. If the baby tooth due to large cavity and inflammation has to be removed before the foreseen time, the misalignment of permanent teeth may happen or some other orthodontic abornamilities could occur.
In our clinic we are also conducting flouridation and sealing of fissures to prevent the development of cavities on new permanently grown teeth.
Dental Centar Mirakul
Ul. Svetog Vinka Paulskog 32, 23000, Zadar, Croatia
Working hours:
monday - thursday: 8:00-20:00
friday 08:00-15:00
saturday: by agreement